The XMM-Newton EPIC-pn light curves showed the presence of rapid variability with a rapid increase followed by a decrease of the count rate by a factor two in less than two hours during the observation. This feature is present in the light curves extrapolated in different energy bands, but it does not affect the ratio between the flux in the 2.5-10 keV and the 0.2-2.5 keV band (see left panels of Fig. 1). The NuSTAR light-curves show no evidence of strong flux and spectral variability (see right panels of Fig. 1). To check whether flux variability affects the spectral analysis we extracted, together with the total time-averaged EPIC-pn spectrum, two spectra applying two different cuts in count-rate (c/s ≥ 0.6, and c/s < 0.6) and we looked for any spectral differences in these spectra by fitting all of them in the 0.3–10 keV energy band using our best-fitting model. For both the spectra with the two different cuts in count-rate the values of the parameters are consistent within the errors with the values obtained by fitting the total time averaged EPIC-pn spectrum.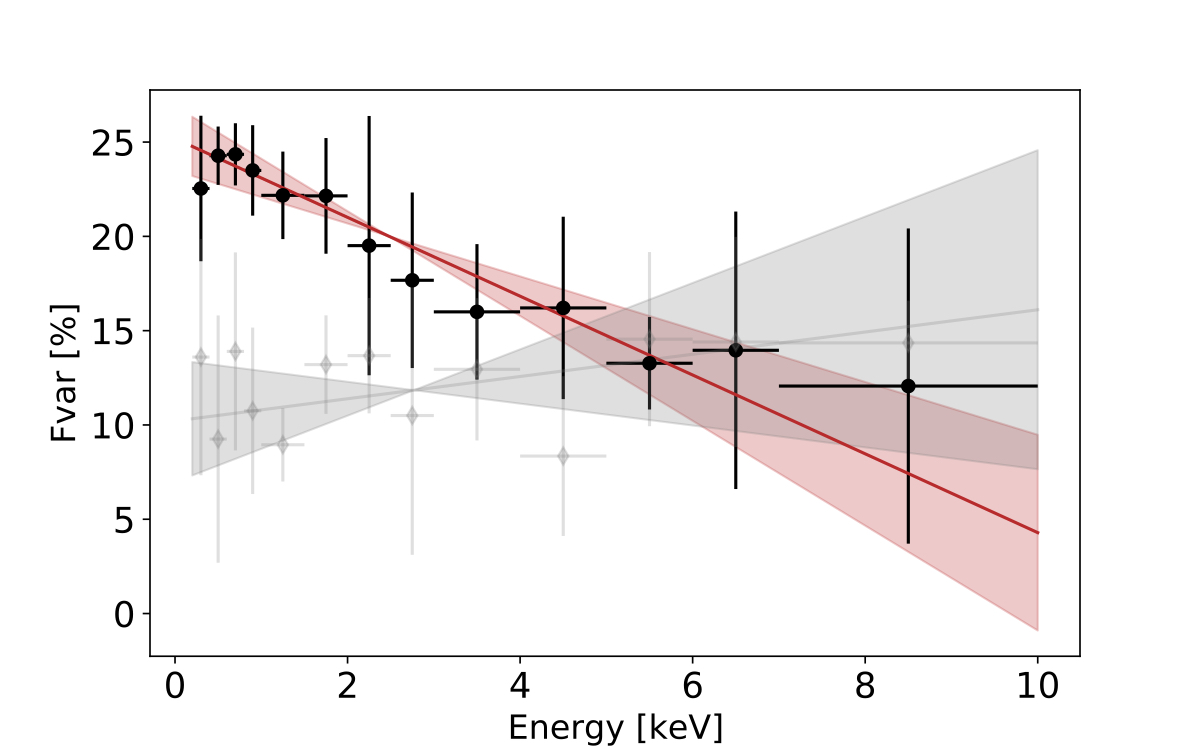 We looked at the variability spectrum of IRAS 04416+1215 using the fractional root mean square variability amplitude (Fvar, Vaughan et al., 2003) for the XMM-Newton observation. We computed Fvar using the background-subtracted EPIC-pn light curves with a temporal bin of 1000 seconds and with an increasing energy binning. We fitted the variability spectrum with a simple linear relation: y = ax + b obtaining the following slope and intercept values: a = −2.09 ± 0.23 & b = 25.19 ± 0.37.
The X-ray variability spectrum of IRAS 04416+1216 shows a different trend respect to the median of the Seyfert 1 sample from the BAT AGN Spectroscopic Survey (BASS, grey in the plot) with almost the same black hole mass as IRAS 04416+1215, with a higher variability in the soft band, suggesting that the most variable components are the ones found at low energy, such as the soft excess and/or ionized absorption (see Fig. 2).